APPROACH, SERVICES, & FEES
Kimberlee F. Comerford, MSW, LCSW Direct # 609-458-2799 Email: kim@supratext.com
Professional Background & Approach
You may be overwhelmed, angry, worried, unhappy. You need someone who can really listen, someone who is sensitive and respectful. My view is that each of life's challenges is an opportunity to learn and grow; that individuals have within them resources to face whatever life brings. I can help you discover those resources, enabling you to respond to challenges appropriately and to live fully. I have over 16 years of experience working with adults and children, helping them to work through major life events, relationship problems, and emotional and behavioral issues.
We can work together, getting to know who you are and how to make the changes needed to improve your situation. We can look at how you can better manage your thoughts, handle your emotions, understand your behavior, connect with your body, and see the rich resources within you.
My treatment approach is Mindfulness-Based Cognitive Therapy (MBCT). This approach integrates traditional therapy with mindfulness techniques. MBCT emphasizes how to work with one's mind in a compassionate, non-judgmental manner. It's an effective treatment to better manage life's challenges and to increase general well-being.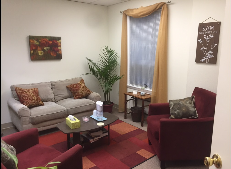 Professional Services
Kim can be reached through her professional website



Aetna, AmeriHealth, Beacon, Highmark, Medicare
Please contact your insurance company to confirm that Kimberlee F. Comerford is listed as a provider.
Self-Pay Clients - The fee for self-pay clients is $80 to $120 on a sliding scale for individual, couple or family sessions. Cash, checks and credit cards are accepted.
Out-of-Network Insurance - You may be eligible for reimbursement even if your insurance is out of network. Consult your insurance company to learn the details of your mental health coverage.